Quick Details
Type:
Other
Feature:
Cellulite Reduction,Weight Loss
Operation System:
Radial Shockwave (Acoustic Wave)
Place of Origin:
Shanghai China (Mainland)
Brand Name:
Lumsail/OEM
Model Number:
BS-SWT5
Shock source:
Radial Shockwave (Acoustic Wave)
OEM:
YES
Energy levels:
1- 4Bar
Control panel:
10.1 Inch full size colorful touch screen
Trigger:
Button switch on applicator
Negative shockwave counter:
Yes, with value preset
Positive shockwave counter:
Yes
Built-in programs:
Indication menu with preset treatment protocols
Packaging & Delivery
| | |
| --- | --- |
| Packaging Detail: | Standrad package suitable for air or sea shipment |
| Delivery Detail: | 1-3 working days |
Specifications
RSWT device for professinal physiotherapists
Pain in the hip area and/or the iliotibial tract
CE
RSWT device for professinal physiotherapists
Model:BS-SWT5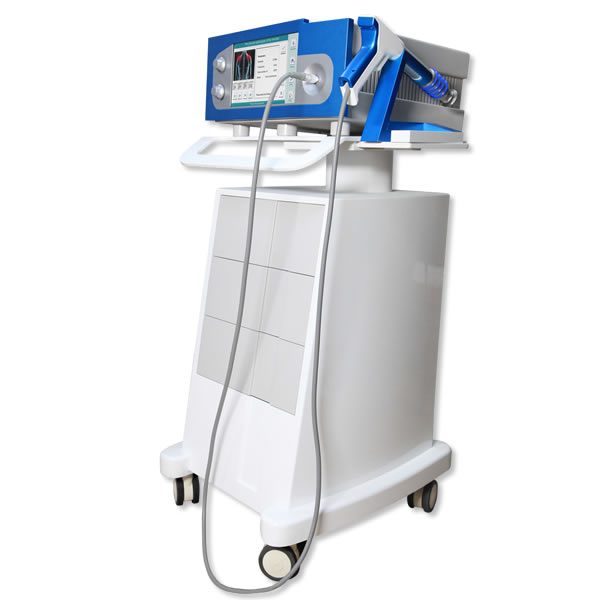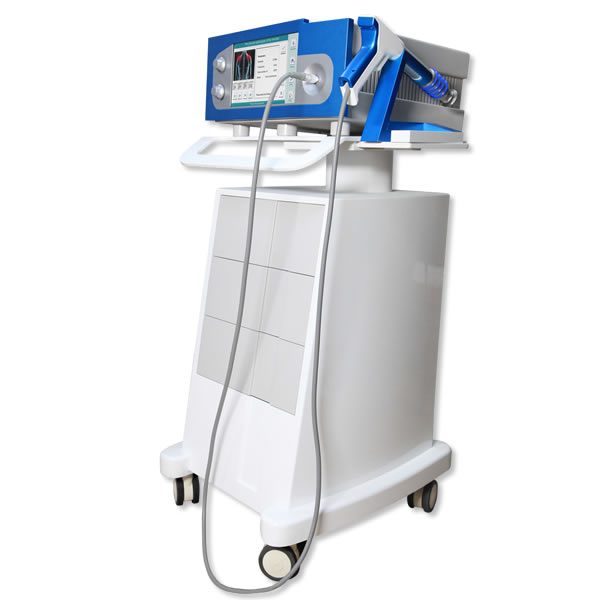 BS-SWT5 is a professional Radial Shockwave Therapy (RSWT) system, which is a method for the treatment of superficial orthopedic disorders developed over the past 20 years especially for pain associated with the musculoskeletal. A shockwave is defined as a wave with a rapid increase of pressure within a very short time and then having a gradual decrease of pressure with a small negative pressure phase. Shockwaves are aimed at the affected areas that are the source of chronic pain. The influence of the shockwaves causes to the dissolution of calcium deposits and leads to better vascularization. The after-effect is relief from the pain.
The BS-SWT5 SWT system uses the ballistic principle of shockwave generation: A pressure wave is formed via a projectile by using accelerated compressed air. The compressed air is generated by an electronically-controlled ballistic-pressure compressor. Using elastic impact, the kinetic energy of the projectile is transferred into the probe of the applicator and then into the client's body. Consequently, during the treatment, the end of the applicator must be in direct -contact with the skin and subcutaneous tissue.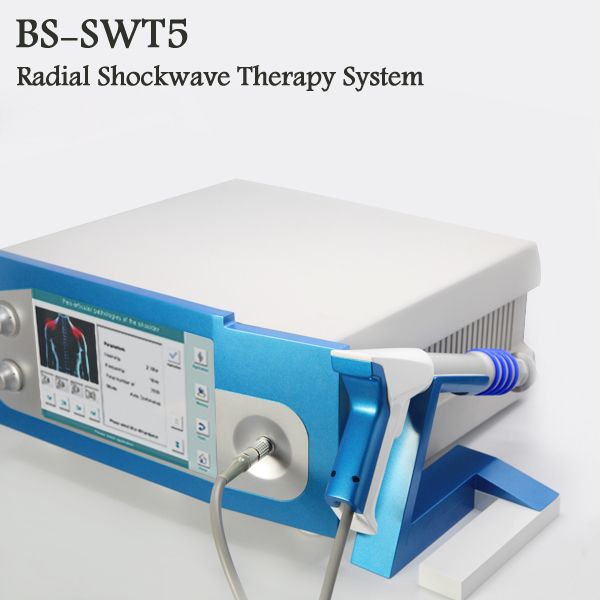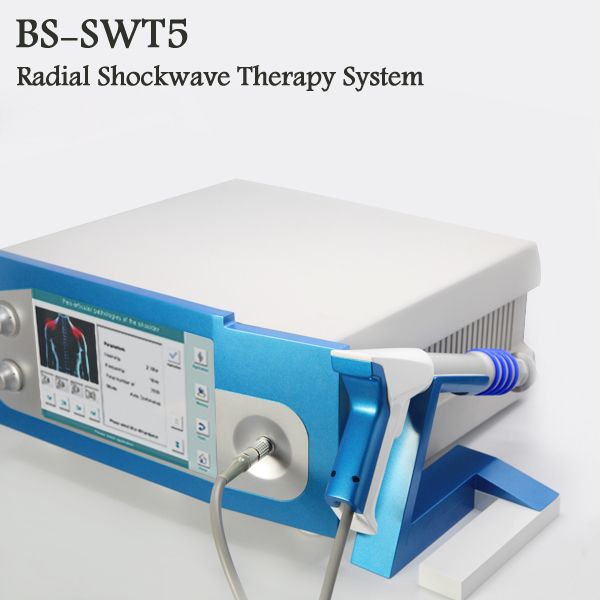 Features
- Ingrowth of Neovascularization, Reversal of Chronic Inflammation, Stimulation of Collagen
- Ballistic pneumatic shockwave with multiple tips on applicator
- Max energy up to 4Bar and frequency up to 21Hz
- Support continuous working mode and burst pulse mode
- User can save settings and rename the settings.
- Big touch screen control panel and knobs for easy-tuning with single finger.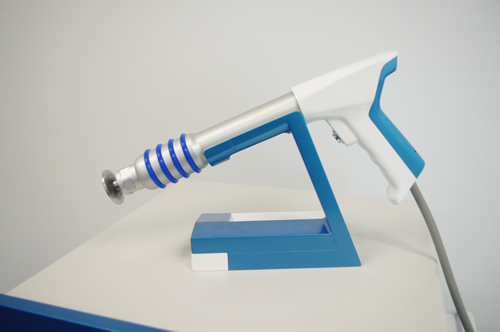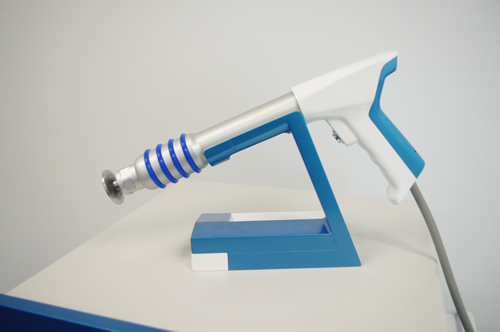 Applications
- Plantar Fasciitis
- Achillodynia/Achillobursitis
- Inflammations and calcification of shoulder joint tendons.
- Pain in the groin area.
- Epicondylitis (Tennis and Golf Elbow)
- Apex Patellae Syndrome and Tibial Stress Syndrome.
- Pain in the hip area and/or the iliotibial tract.
- Jumper's Knee (Patellar Tendinitis)
- Pain in the hamstring insertions and palmar side of the wrist
- Exostoses of small hand joints from Grade 1 Arthrosis.
- Acupuncture
- Pain trigger-points or painful points in muscles..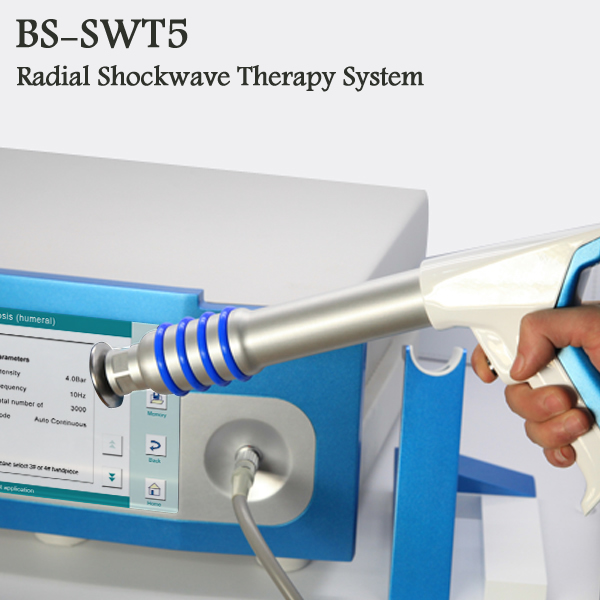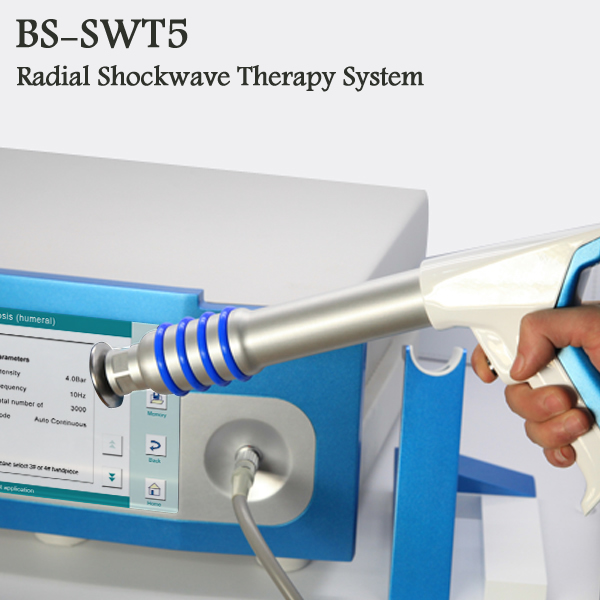 Frequently Asked Questions:

Q: Delivery time?
A: Commonly 1 - 2 business days. If during public holiday it will be extended.
Q: Warranty period?
A: We provide 12 months warranty, and flexible warranty extension policies. Please consult with our people for details.
Q: What kind of payment term is accepted?
A: We support bank wire transfer to our company's account.Paypal or Western unio is also acceptable.
Q: Do you combine shipping?
A: We will combine when possible and discount shipping when possible per your request.
Q: How about packing?
A: Commonly packed in carton. Optional aluminum handcase is another solution.
Specification
| | |
| --- | --- |
| Shock source | Radial Shockwave (Acoustic Wave) |
| Energy levels | 1 – 4Bar |
| Pulse frequencies | 1 to 21 Hz |
| Burst modes | 3 burst modes or continuous |
| Adapter diameter | 9mm, 15mm, 25mm, 39mm (X-Wave) |
| Trigger | Button switch on applicator |
| Control panel | 10.1 Inch full size colorful touch screen |
| Positive shockwave counter | Yes |
| Negative shockwave counter | Yes, with value preset |
| Built-in programs | Indication menu with preset treatment protocols |
| Weight | 18Kg |
| Working Environment | 10 – 28°C 30~80%RH,500~1060hPa |
| Power Specification | AC220V/50Hz, 16A |